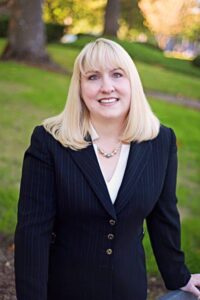 Cherry Daniels, CTFA, MBA
Owner & Trust Administrator
Professional Bio
Cherry has over 13 years of experience in trust and estate administration and 14 years of non-profit financial management. Cherry's years of service in the fiduciary and financial industries, including ten years as a bank Trust Officer, have enabled her to develop unique experience and expertise in trust, estate and probate administration. And, as a professional fiduciary, she is fully committed to and passionate about always putting the best interests of her clients first.
Off the Job
As a wife and mother of three sons, two daughter-n-laws, and one spoiled Yorkie Cherry's family receives most of her spare time and attention. Her family shares her love for God, nature and weekends on the coast. Cherry relaxes by playing the piano, reading a good book and taking her nightly walks.
Community
Cherry serves her community as a Rotarian of the South Salem Rotary, a board member on the Willamette Valley Estate Planning Council, the lead Pastor of a local congregation, volunteering for nonprofits and is a facilitator for the Oregon Bible Institute.
Matthew Isaac
Client Service Specialist
Madisen Renee
Administrative Assistant